Youth
UA Youth Hustle Fleece Pant
Item No:
Embroidery Decoration
Detailed needlework that's durable and withstands repeat washing. High-quality look and feel.
Decoration Care Instructions: Do not iron on decorated areas.
Please review item for specific product care instructions.
Lightweight, ultra-soft 225g cotton-blend fleece with brushed interior for extra warmth, Moisture Transport System wicks sweat. Elastic waistband with internal drawcord. Hand pockets.
---
Related Products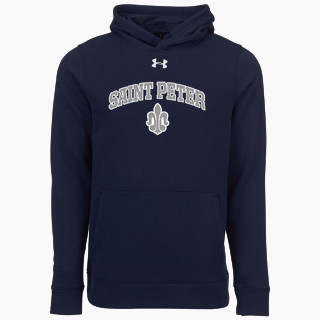 Youth
3 Colors
UA Youth Hustle Fleece Hoody
SIZE GUIDE
SIZE CHART - Under Armour
Men
| Mens | US Size | Chest (in) | Waist (in) | Hip (in) |
| --- | --- | --- | --- | --- |
| SM | 26 - 28 | 34 - 37 | 29 - 31 | 34 - 36 |
| MD | 30 - 32 | 37 - 41 | 31 - 34 | 36 - 39 |
| LG | 34 - 36 | 41 - 44 | 34 - 37 | 39 - 42 |
| XL | 38 - 40 | 44 - 48 | 37 - 41 | 42 - 46 |
| 2XL | 42 - 44 | 48 - 52 | 41 - 45.5 | 46 - 50 |
| 3XL | 46 - 48 | 52 - 56 | 45.5 - 50 | 50 - 54 |
| 4XL | 50 - 52 | 56 - 60 | 50 - 54.5 | 54 - 58 |
| 5XL | 54 - 56 | 60 - 64 | 54.5 - 59 | 58 - 62 |
Women
| Womens | US Size | Chest (in) | Waist (in) | Hip (in) |
| --- | --- | --- | --- | --- |
| XS | 0 - 2 | 32.5 - 33.5 | 25.5 - 27 | 34.5 - 36 |
| S | 4 - 6 | 33.5 - 36 | 27 - 29 | 36 - 38 |
| M | 8 - 10 | 36 - 38 | 29 - 31 | 38 - 40 |
| L | 12 - 14 | 38 - 41 | 31 - 34 | 40 - 43 |
| XL | 16 | 41 - 44 | 34 - 37 | 43 - 46 |
| 2XL | 18 | 44 - 47 | 37 - 40 | 46 - 49 |
| 3XL | 20 | 47 - 50 | 40 - 43 | 49 - 52 |
| 4XL | 22 | 50 - 53 | 43 - 46 | 52 - 55 |
Boys
| Boys | US Size | Chest (in) | Waist (in) | Hip (in) |
| --- | --- | --- | --- | --- |
| YXS | 7 | 25 - 26 | 23 - 24 | 26 - 27 |
| YSM | 8 | 26 - 27 | 24 - 25 | 27 - 28 |
| YMD | 10 - 12 | 27 - 29 | 25 - 27 | 28 - 31 |
| YLG | 14 - 16 | 29 - 32.5 | 27 - 30 | 31 - 34 |
| YXL | 18 - 20 | 32.5 - 35.5 | 30 - 33 | 34 - 37 |
Girls
| Girls | US Size | Chest (in) | Waist (in) | Hip (in) |
| --- | --- | --- | --- | --- |
| YXS | 7 | 25 - 26.5 | 23 - 24 | 26 - 28 |
| YSM | 8 | 26.5 - 27.5 | 24 - 24.5 | 28 - 29 |
| YMD | 10 - 12 | 27.5 - 30.5 | 24.5 - 26.5 | 29 - 32.5 |
| YLG | 14 - 16 | 30.5 - 34 | 26.5 - 30.5 | 32.5 - 36.5 |
| YXL | 18 - 20 | 34 - 36 | 30.5 - 32.5 | 36.5 - 38.5 |